"LA what are u sayinnnnn!"
Those were the words that greeted fans as Fred again.. kicked off his fifth show in Los Angeles, playing to more than 5,000 people at the famed Shrine Expo Hall.
In December 2021, he played his first show in the City of Angels at a 500-capacity venue, but within two years he's sold out the world's most coveted venues and headlined Coachella alongside Skrillex and Four Tet.
While several factors have contributed to his meteoric rise, it's his exceptional capacity to create and communicate the narratives of humanity through his music that truly sets him apart. We were on the ground at The Shrine, where that unique ability was on full display and captivated everyone in attendance.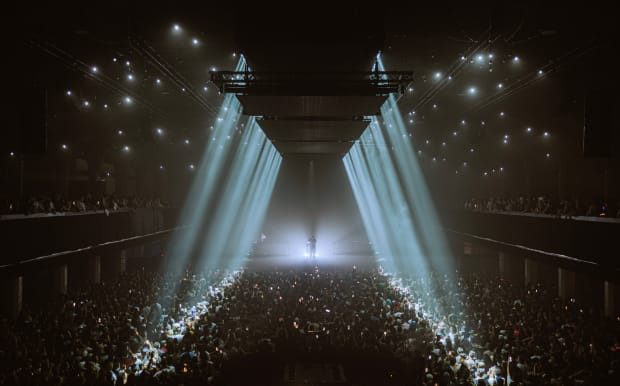 Coming on at around 9:45pm, the electronic music superstar took center stage, beginning the night with a heartfelt solo ballad that resonated deeply and set the mood by virtue of an intimate video prologue. The crowd was entranced as he ignited the venue with an outpouring of energy and emotion.
From the very first note, it was evident that the hour-and-a-half set would be nothing short of extraordinary. Each night had a different setlist and surprises, leaving fans uncertain and excited about what would come next.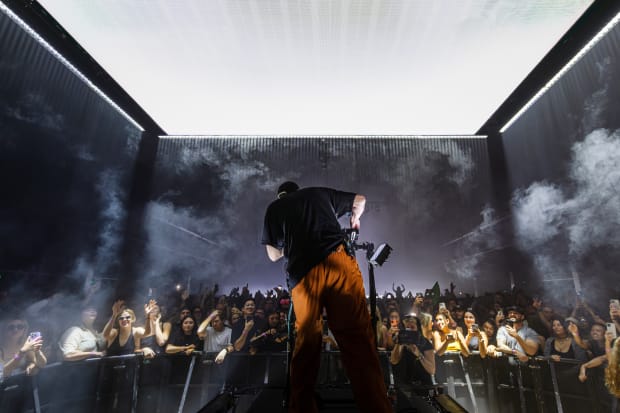 Even with the demanding schedule of eight shows, the British producer's stamina was truly remarkable, as he added extra flourishes of vocals and adlibs to his songs the entire night. You could expect all the hits from Actual Life to Actual Life 3, such as "Bleu (better with time)" and "Angie (i've been lost)." But the biggest treat was in the special surprises he would play for fans each night.
40 minutes into the set, he hopped off the stage to walk through the crowd to the sound board, which was undoubtedly the highlight of the night. Awash in the vibrant glow of an adjustable LED panel, Fred's energy was infectious. The crowd couldn't stop jumping as the beatsmith seamlessly transitioned from his smash hit "Jungle" to his Skrillex collab "Rumble," and from there, he unleashed a new edit of Playboy Carti's "R.I.P" and dove headfirst into an electrifying unreleased edit of "Return Of The Mack."
When he brought his set to a close with "Delilah (pull me out of this)," we witnessed the profound effect his music has on his audience of diehards. The crowd, united in spirit, linked arms and raised their voices in a collective serenade, encapsulating the powerful connection his music had forged.
Somehow, eight shows wasn't enough.
Follow Fred again..:
Facebook: facebook.com/fredagainagain
Instagram: instagram.com/fredagainagainagainagainagain
Twitter: twitter.com/fredagainagain1
Spotify: spoti.fi/3w2WKZD