Time and again, Green Velvet has reinforced his dedication to pushing the boundaries of what's possible in dance music.
Bringing just as fresh, deep and energizing of a tone to the dancefloor as he did 30 years ago when he first started mixing, Green Velvet is now hot off the heels of the release of "The Greatest Thing Alive" alongside Mark Knight and James Hurr. The track highlights his innate ability to breathe life into a classic, sprinkling sass, spice and sophisticated sound design into the rework of Muddy Waters' "Mannish Boy."
Intoxicating and hard-hitting, "The Greatest Thing Alive" celebrates authenticity through its uplifting vocals and drums. Colliding the timeless lyricism of the original record with the groove-infused styles of Knight, Hurr and Velvet, the song is sure to heat up any dancefloor.
EDM.com caught up with Green Velvet to discuss the insights and inspiration behind "The Greatest Thing Alive" as well as provide a deeper look into the intentions behind his LALALAND events and how he perceives the evolution of house and techno.
EDM.com: You have been playing tons of shows recently. What were your top highlights from this summer?
Green Velvet: LALALAND Chicago was my most moving party. It was great having Justin Martin, Crystal Waters live, Mike Dunn, Dom Brown and Dajae playing for the hometown crowd.
LALALAND LA was a very special event this summer. We had Walker & Royce, DJ Seinfeld, DJ Lucati, N808, Dajae and myself playing for an amazing crowd in downtown LA. Playing b2b with John Summit and Dom Dolla was ridiculous at Avant Gardner in New York. The b2b with John Summit at III Points Festival Miami was probably the most insane one of them all.
EDM.com: Tell us about the inspiration behind your new single, "The Greatest Thing Alive."
Green Velvet: Mark and James sent me a track and it took me a while to come up with the right concept for it. I was listening to Muddy Waters "Mannish Boy" one day and thought it would be a great idea to do a house interpretation of it.
I also loved the fact that Muddy Waters was a blues icon here in Chicago. I did the vocals and sent them to Mark and he was like, "I like the idea but it needs a stronger chorus for the dance floor." So I changed the chorus so that guys and girls would feel good singing it.
EDM.com: What was it like collaborating with Mark and James?
Green Velvet: I love working with Mark because he's been in the game at a high level for years and still understands what it takes to get the crowd hype. This was my first time working with James and I really love his level of studio wizardry.
Once we got the right concept the project came together rather quickly. The three of us tend to be perfectionists so we spent a few weeks playing the track out and making minor tweaks here and there. They're the best to work with in the studio.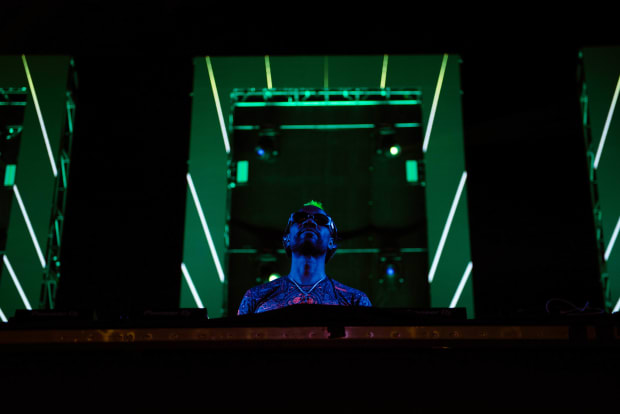 EDM.com: What are your greatest sources of inspiration and creativity when you work on new music?
Green Velvet: I really love listening to music from back in the day. It seems like the songwriters and musicians had more time to really pay attention to detail. Nowadays society is operating at such a fast pace I don't even know if people still appreciate the little things anymore. I also get a lot of inspiration from being out and listening to other DJs and artists.
Tell us about the intentions and inspiration behind your LALALAND events. What do they mean to you?
Green Velvet: I try to keep the house and techno traditions alive when I do the LALALAND events. I remember what it was like clubbing in the 80s and 90s and try to keep that music culture present for the new and old generations to experience at the events.
I love that I'm able to continue to be a part of a musical tradition that was based essentially out of societal rebellion and resistance. Where it's all about the love and the music, PLUR.
EDM.com: How have techno and house evolved, in your eyes, over the past decade?
Green Velvet: The music is pop culture nowadays. With that there is good and bad. The good is that the production and equipment at the events are much better as well as DJs making more money. Back in the day at most venues owners used to pay DJs by giving them the ability of adding a few names to the guestlist and a couple of drink tickets. The equipment was always in a state of repair.
In my opinion, the music was funkier and spoke more on the issues of the day. It would be very hard for a song like "Gypsy Woman" to be made and supported today. The other thing is that it's a lot easier to make music and become a DJ.
FOLLOW GREEN VELVET:
Facebook: facebook.com/GreenVelvetFanpage
X: x.com/GreenVelvet_
Instagram: instagram.com/officialgreenvelvet
Spotify: spoti.fi/49tIA6M