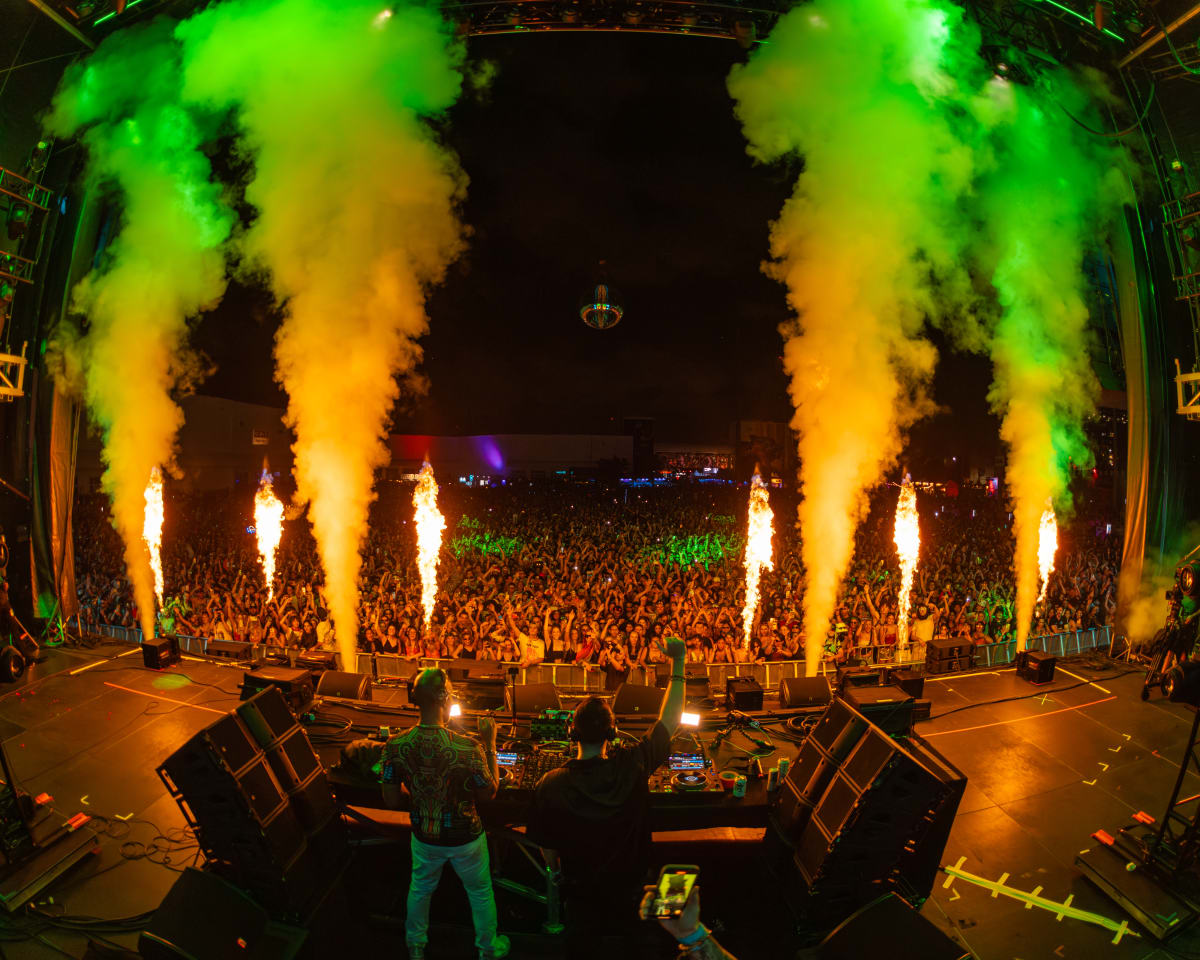 III Points has always been about celebrating Miami's counterculture music scene, and 10 years after its inception, the festival is still pushing the cutting-edge sounds and artists that make the city so special.
Digging deep into Miami's roots while also providing an innovative and experimental peek into the future, III Points' 10th anniversary marked a special moment in time for art, music and culture. The festival, which spanned multiple blocks throughout the streets and warehouses of the city's art district, Wynwood, channeled left-field, eccentric elements to create a truly unique experience.
Six distinct stages featured their own sounds and styles, and were all equipped with crisp L-Acoustics sound that was dialed in to perfection. Stellar performances by Skrillex, Black Coffee, Richie Hawtin, Jamie Jones, John Summit b2b Green Velvet, Grimes and many, many more kept the energy levels high throughout the weekend.
The S3QU3NC3 stage was particularly impactful, with overhead screens spanning the two-floor, square-shaped area and gave an all-encompassing sense of interconnectedness with the crowd.
In true III Points fashion, the main stage, Mind Melt, featured a massive disco ball overhead, lifted into place by a giant crane.
More disco balls radiated inside the MANA Wynwood Convention Center, where attendees could interact with Mokiworld, Despacio, a skate rink and the geodome which housed Danny Daze: BLUE.
Despacio, the club concept created by LCD Soundsystem's James Murphy and Soulwax's David Dewaele and Stephen Dewaele, which celebrates a minimalist, vinyl-only style, was perhaps the highlight of the weekend.
A giant, dark room was illuminated by a lone disco ball hanging from the center of the ceiling, with flittering lasers dancing against the fragmented light,and thumping sound reverberating in the crowd. A journey in itself, Despacio tapped into an authentic sense of retro-inspired groove and magic in simplicity.
Outside of Despacio lived Mokibaby's atmospheric "Mokiworld," a retrofuturistic art installation that paired perfectly with Despacio's magic. Spherical fish-eye mirrors, warm and glowing rainbows, chrome accents and red velvet added to the alluring aura of the space, which included a limousine, photo ops, bars and a lounge area.
Danny Daze: BLUE brought together elements of technology, sound and art for a truly unique, multi-sensory experience. BLUE was hosted inside a 50-foot geodome within the Convention Center, with comfortable chairs spread out in rows so attendees could lie back and enjoy the show.
Centered around the Miami-based artist's new album, the goal of the show was to "elucidate the intricate relationship between auditory perception and its visual counterpart," according to the III Points website. Exploring themes of space and time through unique shapes and images that seemed to gain a sense of gravity due to their projection along the dome, the 33-minute show was expertly designed and left us stunned.
"Since the festival's first year in 2013, III Points has celebrated the Miami community and all of the city's amazing offerings in many ways," III Points stated in a press release. "Every year, III Points has featured local Miami artists on its lineup, providing them with a platform to showcase their work to a wider audience while also organizing art shows and music events for additional local performance opportunities."
III Points is offering a two-day pass for 2024, available now on their website.
FOLLOW III POINTS:
Facebook: facebook.com/iiipoints
X: x.com/iiipoints
Instagram: instagram.com/iiipoints