If Tomorrowland's reputation as a festival pioneer was ever in doubt, their 2023 aftermovie should silence it once and for all.
This year's astonishing festival hosted 400,000 fans from over 200 different countries, who watched more than 750 of the world's best DJs. But those numbers only scratch the surface.
Released today, the aftermovie immerses electronic music enthusiasts into Tomorrowland's stupefying "Adscendo" mainstage, which remains a bastion of the culture.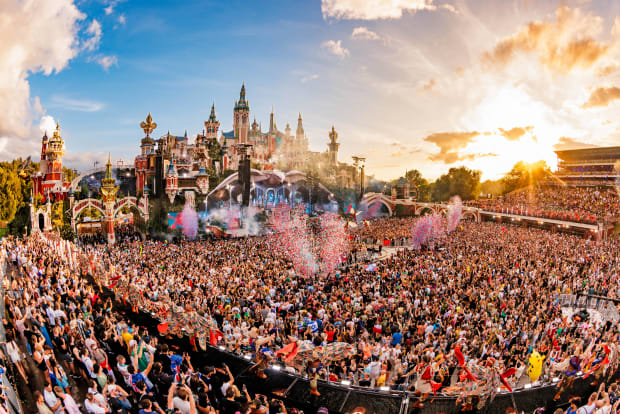 By the numbers, the stage is nothing short of extraordinary. At 141 feet, it eclipsed the height of the Guinness World Record-breaking "Big Beast" stage at Saudi Arabia's SOUNDSTORM festival in 2021, which was just over 135 feet. To put that into perspective, you'd need to stack up 19 clones of the freakishly tall basketball superstar Victor Wembanyama, who stands 7′ 4″.
"Adscendo" also boasted 740 square meters of video tiles, 230 speakers and subs, 30 lasers, 48 fountains and over 1,000 lamps. The developers of Tomorrowland needed 50 days to build the stage and 13 days to break it down.
Check out Tomorrowland's official 2023 aftermovie and its tracklist below. You can also watch full DJ sets by Alesso, Hardwell, Amelie Lens, Alok and many more here.
Tomorrowland Belgium 2023 Aftermovie Tracklist
Swedish House Mafia – Don't You Worry Child (Symphony Of Unity Rework)
Steve Angello – Monday (Sunnery James & Ryan Marciano, Magnificence Remix) (Tomorrowland Music)
Capricorn – 20Hz (Marco Lys Remix)
Filterheadz – Indian Summer
Luude, Issey Cross – Oh My (Feat. Moby)
Steve Angello – Rave N Roll (Corey James Remix)
Fancy Inc & Fredrik Ferrier – Confessions (Instrumental Version) (Tomorrowland Music)
Yotto, Something Good – Rhythm (Of The Night)
Like Mike, Candy Man, Cornelius SA feat. Nomvula SA – Bambelela (Capoon Remix)
Like Mike, Candy Man, Cornelius SA feat. Nomvula SA – Bambelela (Original Mix)
Samm, Maxi Meraki – Open Your Eyes
Alesso & John Newman – Call Your Name (Tomorrowland Music)
Dimitri Vegas & Like Mike, Maddix, Da Hool – Meet Her At The Love Parade
Klangkuenstler – Die Welt Brennt
Tony Romera – Epilogue (Tomorrowland Music)
Mind Against & Sideral – Criseide
Kölsch – My Dream Walked
Closing Show
Lugovskiy – Quiet Place (CORE Records)
Follow Tomorrowland:
Facebook: facebook.com/tomorrowland
Twitter: twitter.com/tomorrowland
Instagram: instagram.com/tomorrowland